Oracle Analytics Cloud has been a game-changer. It allows companies to get up and running on Essbase without having to requisition servers, databases and personnel from IT. A company can literally have a new Essbase cloud environment up and running the same day. That has never been possible before.

And the benefits don't end at installation either. No longer do companies have to maintain the internal infrastructure required for on-premises Essbase. Upgrading to the latest version doesn't take months and require the help of an external consulting company. Because your Essbase instance is running on the Oracle cloud, you can be assured of always having the most current version. Bugs are fixed faster and new features are available to your users as soon as they become available. Applying patches is a thing of the past. You're now free to focus solely on providing value to your business!

Just as OAC has changed our expectations for Essbase, Google Sheets has raised the bar for spreadsheets. No longer do you have to worry about installing Excel on every user's device, then inevitably having to support multiple versions over time. This especially becomes a problem with Excel add-ins like Smart View, since its behavior can change based on the version of Excel it's running in. However, the ability to share spreadsheets natively, without having to email or put them on shared drives, is perhaps the killer feature of Google Sheets. Users can even collaborate on a Sheet in real-time. This means there's one version of the truth that everyone can agree on.

The OAC Essbase by Casabase Google Sheets add-on now allows you to combine the cloud advantages of Sheets (no local install, accessible from any connected device, built-in sharing) with the benefits of Oracle Analytics Cloud. You can now access your OAC data from Google Sheets exactly like you do in Excel using Smart View. All the familiar functions are there: retrieve, zoom in, zoom out, keep only, remove only, pivot, submit data, even executing MDX queries. So not only can you get your Essbase environment up and running the same day, your users can start analyzing their data in Google Sheets without you having to install Excel/Smart View on each of their desktops.
The OAC Essbase by Casabase Google Sheets add-on is available directly from the Add-ons tab of Google Sheets: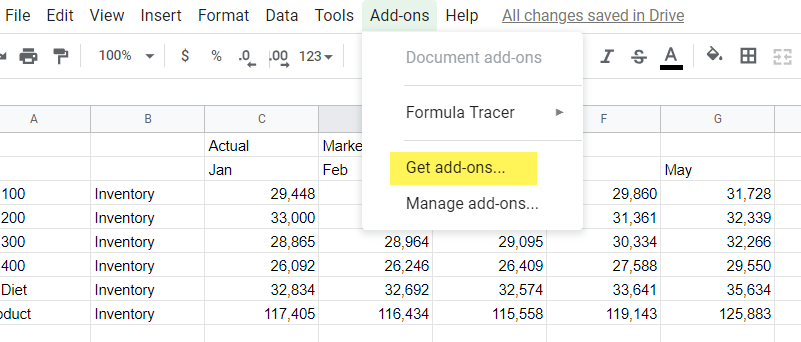 Then search for "OAC Essbase by Casabase". Next, you'll be prompted to confirm your consent to the permissions necessary for the add-on to run.

Our add-on has been tested and approved by Google for inclusion in the G Suite Marketplace. Just like OAC, you'll never have to apply patches or install a new version of the "OAC Essbase by Casabase" add-on. You'll always have the latest and greatest automatically.

The ability to pull your OAC data into Google Sheets in real-time opens up a new world of possibilities. Accessing your data in the Oracle Analytics Cloud using a cloud-based spreadsheet is the logical progression in the trend from on-premises applications. It's easy to get started and we offer a 5-day free trial. If you have an OAC instance and the following credentials, you can get started in just a few minutes: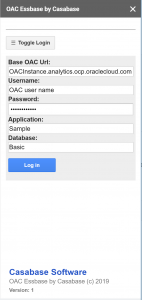 If you've been wanting to have the ability to perform your ad-hoc queries against your Oracle Essbase Cloud cubes using the power of Google Sheets, your wait is over. Head on over to the GSuite Marketplace and get started with the "OAC Essbase by Casabase" Google Sheets Add-On today!